Ask the Experts: Tips to Design a High-End Home Theater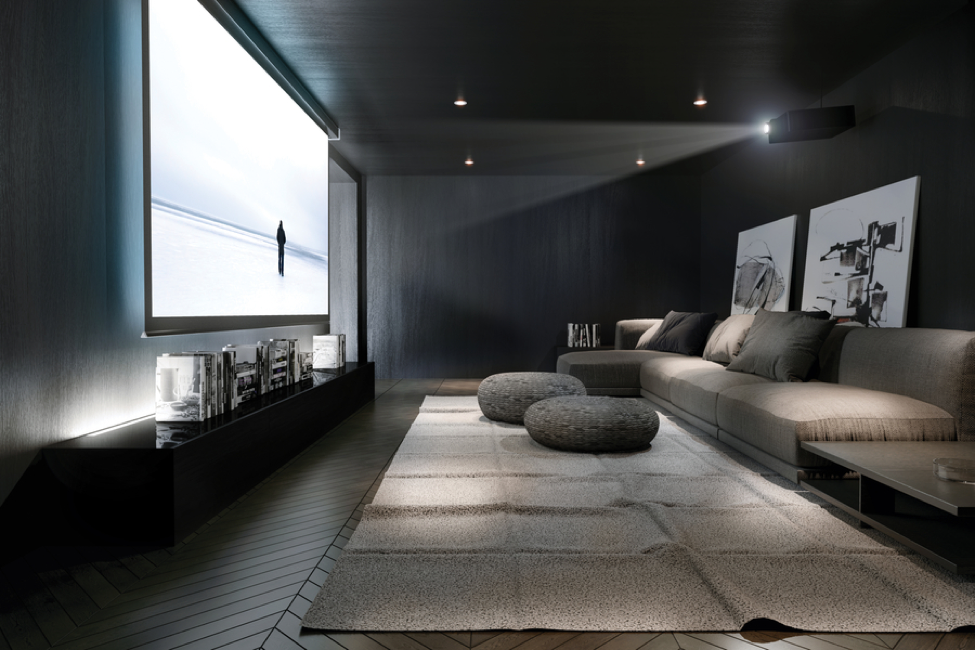 Home Theater Quality that Rivals a Hollywood Screening Room
Are you thinking about building a home theater, but aren't sure where to start? There are many factors to consider in an installation—which room to use, what equipment is best, and how to implement everything for eye-catching results. Luckily, you don't have to attempt it alone.   
When planning for a private cinema in your Denver, CO, property, look no further than our home theater design experts. If you're looking for the best in screens, projectors, and speakers, we'll share what you need to know to get started.    
SEE ALSO: What Is 2-Channel Audio Anyway?
Choose the Right Room
What location is best for a home theater? In the perfect scenario, you'd start a home theater during the planning stage of a new home or renovation. But if you're not undergoing construction, try to install your theater in a larger space with a high ceiling, ideally a room with a rectangle shape. Square-sized rooms are known to cause acoustical distortion as sound frequencies bounce from wall-to-wall. Plan to install your screen and main speakers along a short wall for superior sound and viewing angles.  
If possible, avoid a room with windows. Their hard surfaces cause hard audio reflections and any ambient light that seeps in will cast a glare on the screen. But if there are windows in your theater, blackout-style motorized shades make it easy to cover them with a press of a button.
Design with Acoustics in Mind
Carpeting, soft furniture, bass traps, and acoustic wall panels—these will reduce echoes and 'slaps' caused by sound waves reflecting off hard surfaces. For the best surround sound experience, don't skip acoustical treatments.
We love the rumbling, deep sounds a subwoofer adds to movie action scenes. But if low bass tones build up in the room, some low tones will be canceled out, while other tones become too pronounced and overpower other sound frequencies. You won't hear your speakers like they were intended to be heard unless you absorb frequencies with soft materials.
Select a High-Quality Projector
There's a world of projector options out there. How does one find the best? Brands like Sony, JVC, Samsung, and Digital Projection manufacture projectors in native 4K and even 8K resolution—that means approximately 33 million pixels on your projector screen.  
If you're comparing models, you may come across terms like DLP, LCD, and laser projectors. DLP (Digital Light Processing) projectors use a lamp or LED plus micromirror technology to direct light toward an image, resulting in more vibrant contrast and color. LCD (Liquid Crystal Display) projectors also use a lamp source with a prism of color filters to offer sharp, crisp images and may appear brighter than DLPs. Laser projectors are not lamp-based and will last five times longer than a projector with a bulb would. Laser projectors are also better at color accuracy and color contrast, so visuals won't ever look 'off.'
Add Surround Sound Speakers
Surround sound isn't just placing speakers haphazardly around a room. For stunning audio, a standard setup includes front left and right speakers, a center speaker, left and right ear-level speakers, and a subwoofer. Each speaker has a specific purpose. Sound effects and background music usually emanate from left and right speakers, for example, while dialogue plays from the center channel speaker.
For high-tier sound, Steinway Lyngdorf builds speakers with the same craftmanship they bring to their world-famous pianos. Their time and dedication results in delicate and accurate sound reproduction that even Hollywood producers trust to screen their movies.
Steinway Lyngdorf's speakers and subwoofers are handmade in Denmark with many options to customize your home theater. Speakers can disappear into walls and ceilings or demand attention in floor-standing models. Steinway Lyngdorf's Boundary subwoofers range from the powerhouse LSR-212, which is meant for larger rooms with elevated seating, to the slim and stylish Model M BW installed on or inside walls.
Bring Impressive Sights & Sound to Your Theater
If you're searching for a luxury home theater installation near Denver, look no further than Aurum. Here, you'll find theater equipment from brands like Steinway Lyngdorf, Sony, JVC, Digital Projection, and more. And we provide personalized designs and installations to create the home theater of your dreams.
Contact us here to get started! We look forward to speaking with you.